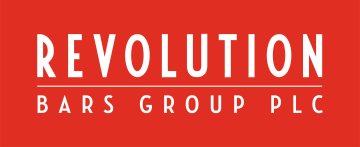 Revolution Bars Group, previously known as Inventive Leisure and The New Inventive Bar Company, is a city centre bar chain with headquarters in Ashton-under-Lyne, Greater Manchester, England. The bar brands trade under the names Revolution and Revolución de Cuba.
THE REVOLUTION STORY
The group's story started back in 1991, when two friends came together to open a small bar in Ashton-under-Lyne, Manchester. Fast-forward over 30 years and the Group has evolved into a portfolio of 69 venues, employing around 3,000 individuals across the UK, delivering wide range of premium and fun cocktails and drinks, lunchtime and evening food offerings and live entertainment.
Bar locations in the UK: Revolution Bars Group have a trading portfolio of over 69 bars located predominantly in town or city high streets which operate under the Revolution brand. Our bars combine both a food-led and drinks-led offering and typically trade from late morning, during the day and into late evening.
To find out more about opportunities with Revolution Bars Group click below